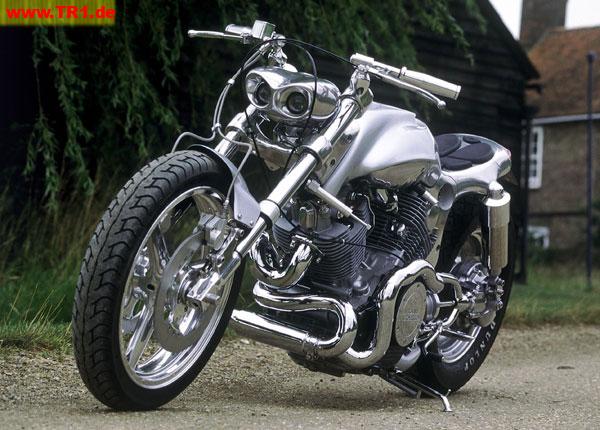 ---
From the earliest dawn of motorised two wheeled transport, a wealth of talent has poured their energies into the creation of the individual dream. Indeed, the industry started mainly in back sheds whereby a fascinating array of individual velocipedes, some of which succeeded and some of which faltered, were thrust upon a sometimes startled public. In later years many a conversion, especially for sporting purposes, saw success exceed, even in some cases, the manufacturer's expectation of their own product. This practice reached its peak in the 1970's with the arrival of the cafe racer, most famously depicted by the marriage of Norton and Triumph. It was the Californians who stretched their motorcycles to the limit, creating the extended front fork, high rise handlebar specials which became known as the Chopper. Quickly adopted in the UK, some amazing machines with a strong cult following have subsequently appeared. In the 1990's there is still a dedicated band of talented craftsmen still pursuing this form of creative art in metal, perhaps now more calmly called "custom motorcycles". At the leading edge of this art there is always that individual who breaks new ground pushing the limits of brilliance in his field that little further than his compatriots.

One such person is Paul Scott", who created this cybernetic fantasy "Road Creature", Paul prefers not be called a "custom motorcycles" builder, instead he describes himself as an artisan, a designer/stylist. He has broken new ground and has taken everyone by storm wherever he has presented his brilliant "Rhapsody in Steel". This stunning, and very unique bike, is the latest creation to spring forth from his workshops, set in a beautiful farmyard location, in an equally beautiful area of the country, near Royston, Hertfordshire. He earns his living by doing a variety of engineering jobs. He describes himself as a basic all-round metal worker. From run of the mill agricultural repairs, to work he does for a couple of contemporary furniture designers, fabricating metal furniture for them. The market that he is aiming for now is the designing and styling bespoke bikes for discerning customers, rather than just hardtailing a frame, or fitting a singe top tube.
---
---
His quest in life now is to continually push back the barriers in the world of custom bike building. Given a free rein and sufficient budget, he is just the man to do it. He made the custom world sit up and take notice when he unveiled T2, winner of more than a few custom shows, and MCN's special of the Year with it's adjustable rake, ride height and shock absorber angle. He then proved it's worth by drag racing it as well! "Road Creature" has purposely been designed to be form before function. Paul took the initial elements of the bike, like the engine and the wheels, and then concentrated on how it was going to look. That's why the bike looks so small and squat in the photos, because it is, not that Paul is twelve foot tall.

Because there is no frame as such on "Road Creature", the bike being held together by twenty two individual aluminium castings, the only bronze welding on this bike is the rear swingarm. Which is also a product of both Paul's mind and hand working in perfect harmony. The engine is a Yamaha XV920, bought as an unknown quantity from a mate, and then put on his fully adjustable workbench/jig and the wheels and forks offered up to see how it looked. Settling on a 45 degree rake, he made the headstock from billet aluminium, which is where his departure from the norm kicks in. Bike headstocks are normally either turned, or cast, in a round shape. "Road Creature's" headstock is square. And remember, that's just the start. The differences between this bike and others, are many and manifold. He came up with the organic concept behind "Road Creature" due to his influences from the furniture and design world he circulates in. Also, having one of the biggest names in the contemporary furniture world as a neighbour, Mark Brazier Jones, who has supplied furniture to people like Sylvester Stallone, the artist formerly known as Prince and the like, must help when it comes to brainstorming sessions. Further inspiration came from Glynn Kerr's year 2035 concept sketches in Motorcycle News, the new Batman films with the anatomical stuff, and Judge Dredd. His idea of the bike is of a predatory creature preparing to pounce. Some can see a woman's body in it, while other people see a whale or a dolphin. And then there's the front view. Very insect-like indeed. Paul actually drew inspiration for the one-off casting which holds the two Ring foglights from a sculpture by Barbara Hepworth. "Road Creature" is truly all things to all people The value of having an open mind, and not being hindered in your thought process by thinking, 'that's the way it's always been done, so that's the way it has to be,' has never been better demonstrated than in this bike.
---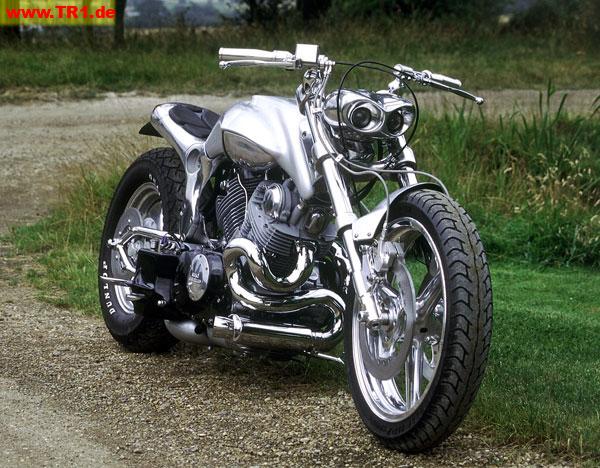 ---
Another reason for the organic theme was that, in nature, you can see a myriad of perfect designs. An oak tree, for instance. The perfect form for not being blown over. When you look at a skeleton and bones, they are the perfect answer to whatever particular task it has to perform. Keeping the skeleton theme in mind, Paul made his own to help with the build. Well nearly. To help him get a better idea of how the bike was going to fit him, and how it would look with him sat on it, Paul laid on the floor and drew round himself. He then took these patterns and made a hardboard mannequin, with pivot points where all the body joints are. Attention to detail or what?

The bike took 18 months to construct, due in no small part to the fact that everything on this bike is one-off. No bolt on custom catalogue parts for our man Paul. He even made the rubber castings that make the seat, well the bits of rubber that fit into the cast tail piece. By his own admission, it's not the world's most comfortable seat, but it looks really good though. He says the hardest job of all was the left hand exhaust pipe from the rear cylinder. This is made up from loads of small pieces welded together, and follows the shape of the engine casings perfectly. The hours of work that must have gone into this beggar belief, but then again, it's details like this that separate the great from the good. Both exhaust pipes meet up in a silencer, again made by Paul, which gives the bike a snarl to match its feral appearance. The belly pan represents the adrenal gland, connected with tubes, sending signals to the rest of the body. It actually houses the horn, starter solenoid, light relay, CDI black box, starter button etc. It has a strong piece of steel running down the centre of it, shaped like a skate blade, in case of grounding out, due to being so low. Foreseeing problems like that before they occur can only come with years of experience building bikes, something, undoubtedly, which Paul has. Mind you, that should be immediately obvious to anybody looking at the photos.
---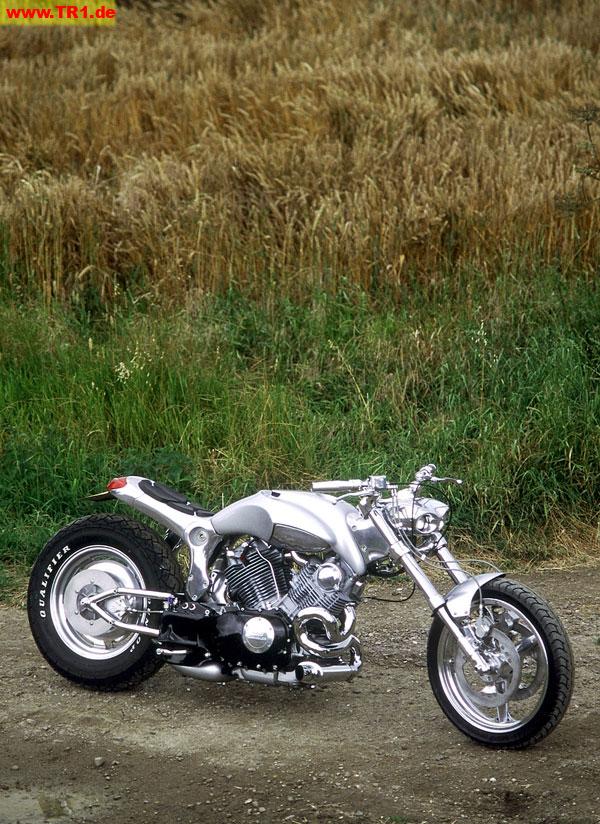 ---
It is normally Paul's wont to paint his bikes drab colours, so as not to distract from the engineering that has gone into the bike. This bike would have been a subtle shade of matt black as well, had it not been for the fact that the guy who owns the Joe Bloggs clothing empire came to buy some furniture one day. Then Paul saw the rather fetching shade of silver on his Bentley, and thought, hmmm. So base silver it was, and it fits in really well with the whole bike. The fuel tank is fabricated from sheet steel, and fits around the carburettor, a Ducati 906 Paso item. The air filter can just be seen through the slots in the rear of the fibreglass cover that goes over the fuel tank proper. The carburettor is operated by a Honda 50 throttle slider which sits at the end of some hand built bars. Bet you can't guess whose hand it was that made them. Each time you look at the bike, you see something different. Like the brake discs. Paul didn't think the standard ones looked quite right, so he made some of his own in stainless. It's the attention to the small details like that, plus the sheer skill and effort that went into building "Road Creature", that saw Paul win best engineering on his first trip out with the bike to the Rock and Blues show and the machine has taken major awards against its competitors from Motor Sale, Holland 1998 to Faro, Portugal 1999.

Unbeatable for sheer style and elegance, this groundbreaking custom motorcycle is undoubtedly the best image ever produced to date within the field of customising. "Road Creature" is based in London and is available for hire as a prop to the feature film, still photography, and video industries, etc... Telephone John Sykes Fletcher on +44(0)171 727-5051 for more information. Alternatively if you like the idea of having a totally unique bike designed and built for you, or just some interesting parts made to set your bike apart from the rest, give Paul Scott a call at his workshops on +44(0)1763 274700
---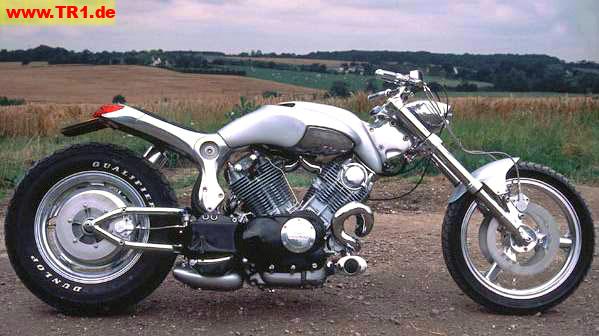 ---
Design, Manufacture and Assembly
Paul Scott Prototype Engineering - Wicked Motorcycles a speciality.
Anatomical Fine Tuning and
Assistant Pattern Maker
Mark Brazier-Jones
Engine Graphics
Mary Scott and
Ali Dando
Engine
Yamaha XV920 v-twin from 1983 re-bored to 1,000cc
Carburettor
Ducati El Paso 920
Frame
None, Created Around a Hand Crafted Alloy Spine Consisting of 22 Individual Castings
Front Forks
Aprillia 125
Front Wheel
Kawasaki KR1
Rear Wheel
V Max
Brakes
Owner Made Stainless Steel Discs,
Brembo Master Cylinders and
Performance Machine Calipers
Rear Shock
Hagon / BMW K75
Machining
Beacham Engineering,
Phil at Curtis Star and
Chop & Change
Polishing
PT's Polishing Shop
Fibreglass Laminates
Nick Vincent at Prolaminates
Chroming Vehicle and
General Metal Castings
Taylors Foundry
Paint
G & B Autospray and
J.B.
---
---