Things not necessarily related to a TR1
Things not necessarily related to a TR1

Yamaha papercraft:
Well, it's not a TR1, but name-wise it's close... Do you want to build a Yamaha R1 paper craft model? Print the model-pages (click the picture) and the instructions (click the type) from the following table and there you go. Best is to right-click the pictures or the types and then select "Save Target As...".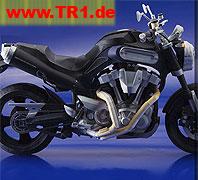 MT-01 (Ultra-realistic / ZIP-Archive)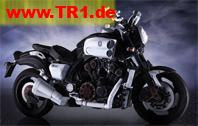 V-Max (Ultra-realistic / RAR-Archive)
You need the Adobe Acrobat Reader in English or German or the fast Foxit PDF Reader for viewing and printing the pages.
All this was saved from the Yamaha Japan Paper Craft Page.