TR1 racing information | 🛑 | ▼
TR1 racing
Year 2000 / Most, Czechian Republic / Autodrom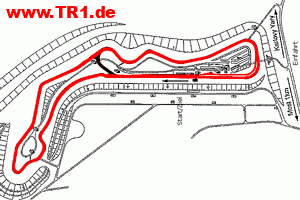 10th to 12th of July 2000, Sepp was in Most, Czechian Republic, again.
He had the far best training times, since his hottest competitor, Guido 'The Wild' (see the picture on the right) was not there because of a blood-poisoning.
There was rain at the first race. That is no real fun. After a half round, he already was 300m in front of the others, and then, without any prior warnings, the front tire slided away - 'fucking Metzeler tires' !!
Congratulations to Kilian and his 1200cc Laverda (check the picture below - number 82), who won close before 'Schellie´s' (Schellenberger) BMW.
At the second race, Sepp bike was OK again, and he won with 30 seconds in front of the 2nd.
Below you also see a 'Original Lower-Bavarian Bend-Rod' ;-)


2 images