Report from the rally 1999 | 🛑 | ▼
Rally 1999 information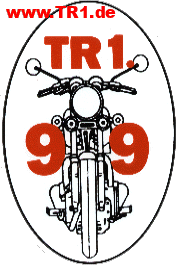 The 1999 rally is over and it was, again as every year, great fun. Even that the weather forecast was not too good for the weekend, we only had a few minutes of rain at the place in Roßbach, and only for half an hour during our short trip to the Kaiserbuche with the famous restaurant and the lakes around Obertrum a. See in Austria. Here are two (low quality) pictures of Obertrum and the Mattsee near by:
According Piet Kottas ' books (as every year, he was doing the admin work), we had 85 bikes and around 130 people at the rally.
At saturday afternoon we had a very funny bag-hopping football game with 8 teams. The winning team was: Jan Rauch and Damir Luksic from Switzerland together with Eddy, a replacement player with a 1:0 win over the second winners Robert (Grieche) Mayer and Reinhard (Reini) Schindlauer from Austria. Third winners have been the "Pfefferei", Peter and Markus Pfeffer.
As every year, the buffet at Saturday evening from Party-Service Gruber located in Mühldorf/Inn was excellent.
Here are some pictures from the place and the trip taken from Jean-Claude Sotto :
Sepp Koch has also made some pictures:
Helmfried and Ulrike also sent me pictures of the trip to "Kaiserbuche":