Report from the rally 2004 | 🛑 | ▼
Rally 2004 information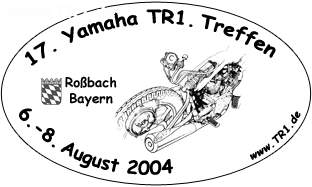 This year I show you some pictures of the preparation of the campground. Markus seems to be the one working most... As usual we had trouble building the pavilion . But we managed it finally and had our deserved beer at the pub in Roßbach.
This year attraction where two drivers from far away. Morimasa and Hiromi Wada from Kochi/Japan. They have been on a world-tour and visited us because Uli Schunke met them once in India and invited them to our TR1-rally. Funny, isn't it? And it's also funny how Japanese people cool there engines .
This year trip was to a nice beer garden east of Eggenfelden. There we had lunch. Afterwards we went swimming at the lake in Marktl. The people from Marktl seem to be afraid that their washbasin is misused :-)

(The entrance to the beer garden - scroll horizontally)
Sepp made a TR1 workshop to show our visitors the secrets of the TR1 engine . And Heinze gave his best (1.8 MB video!) with the bagpipe .
After tons of cakes , we had the absolute culinary highlight: Italian starter , a sucking-pig filled with dumplings and finally a great Panna Cotta. All this was served by Walter and his son Bernhard from Freilassing, where they run a small pub and a delicatessen shop ("wein und mehr"). They also brought dozens of liters of great red wine and lots of Grappa (Italian schnapps).
Bernhard and Markus played (1.4 MB video!) us some nice songs. Bernhard also is a member of "The Groovers".
Below you find some pictures of this great weekend:
Below you find some more pictures from Uli Remke :