Report from the rally 2012 | 🛑 | ▼
Rally 2012 information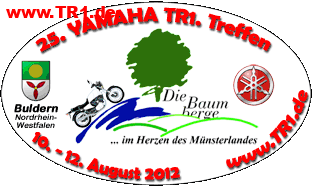 The Baumberge has called us! The Westerberg, the highest elevation - but this is not a real mountain! - is magnificent 188 m high...

The TR1 Rally 2012 took place from August 10th to 12th at the Biker's Farm, the meeting place for motorcycle riders in the Münsterland. The town of the TR1 Rally was Buldern, which is approx. 25-30 km west of Münster and belongs to Dülmen in the Coesfelder Kreis.
Meinhard "Manni" Born made a "Cap for the Rally 2012". Initially only for the organisers, but now everybody can buy it. Just send him a message per phone, fax or e-mail. Click here to order the cap and for further details.
Uli organized a great round trip. The tour finally was about 230 km long and lasted including three breaks from 11 a.m. to 7 p.m. Click here for the original information flyer of the tour.
Some videos from the rally 2012. Many thanks to Thorsten Vierhock and Uli. Don't forget to turn on the sound...
Click above thumbnails or playlist icon

for
2 more videos
. Navigate with

or

.
Move mouse pointer over a picture for more details. Click

or the video icon to start.
All videos are compressed. In fullscreen mode, they might not have sufficient quality!
Uli sent mit this pictures from the weekend:
Some pictures from Bernhard: